Old Ford Market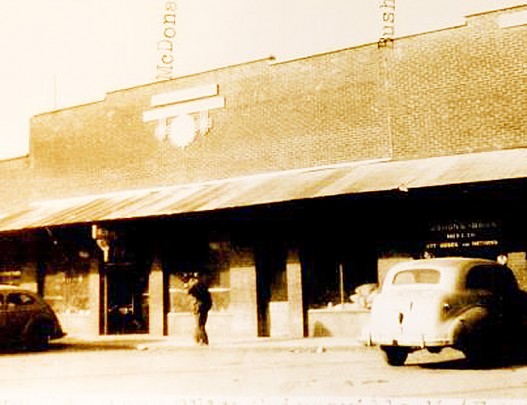 Old Ford Market.
Old Ford Market has New Purpose in its Second Century on Town Square
A daughter of the Ozarks, Charlene Schlotzhauer returned to her family's roots with the vision of celebrating her birthright and sharing her time-earned life skills with the Gainesville community. Her eclectic shop and gallery in the newly renovated Old Ford Market building on the square is an emotional, as well as financial, investment in the town she reveres and the people she loves.

Charlene and her husband Ron opened the doors to the 100-year-old building the day before Hootin an Hollarin last year. A major renovation transformed the old building to its current pristine condition, combining Charlene's sense of design and Ron's business acumen with the skills of Winrod Brothers Construction Co.

As with most renovations, surprises within the walls and ceilings and under the floor presented both challenges and opportunities. Six fires had charred and compromised the rafters that had to be replaced or reinforced for safety. A mezzanine where the original owners had offered clothing for sale was remodeled into a high display shelf that extends the width of the building because the ceiling height of the space is too low for today's taller shoppers. New, but antique-looking, metal ceiling tiles replaced the original damaged tiles.

Workmen stripped away the old carpet, uncovering a cement floor that they stained and buffed to a charming patina. In the attic under layers of dust and insulation, workers discovered the original globe light fixtures that had been abandoned for decades.

The Schlotzhauers' new shop boasts a diverse mix: hand-dyed silk scarves, jackets and shirts; jewelry crafted from gems and beads; framed photography; collectible glass and figurines; and consigned items like the vibrant raku pottery from the kiln of Lois Gress Neal of Squires. Charlene's father George Wilburn Mahan dealt in antiques, and she is still finding furniture and collectibles he stored in his barn and workshop.

A Circuitous Path

Charlene traveled a circuitous path away from Gainesville and back again. While living in Kansas City as a single mother to her children, Todd and Jennifer, and working for Xerox Corp., she created a computer graphics program that she eventually developed into her own business. She was pitching a marketing presentation to an optical production company when she met Ron Schlotzhauer, a corporate manager.

Charlene laughs when recalling their first meeting. "Right after I met Ron, I told a friend, 'I'm going to marry that man.'" They wed a year and a half later.

Always fascinated by color, texture and design, Charlene decided to go to college to study art at the age of 45. An oddly titled class, Obsessive Surface, changed her life.

"I felt like my life began with that class," she says.

Always a quilter and seamstress, Charlene loved working with cloth, but she never had considered "how you got marks on fabric." In the class, she learned about textile design, tie dye and a Japanese fabric art technique called shibori. Using her innate understanding of color and the sense of graphic design she developed at Xerox, she now creates her own unique textile art forms.

"I discovered I didn't have to draw to make art," she says. "I couldn't get enough of what to me was a wonderful new medium."

She launched her career with the purchase of a number of $2 silk scarves that she hand-dyed in bright colors to sell out of her home and at local art fairs. The success of her scarves encouraged her to open a tiny shop in Lawrence, Kan., a college town and art center near her home in Overland Park. There she experimented with buttons, beads and appliques on her own fabric creations. After a few months, she expanded into a larger facility that served as her studio and gallery for six years.

A Colorful Collage of Histories

The death of her father six years ago brought her home to Ozark County to care for her mother, Ernestine Quick Mahan, who remains in fragile health. Charlene's dream is to create a center for the arts in Gainesville where she can inspire others to develop cottage industries in sewing, woodworking, beading, photography, etc.

The history of Charlene, the Old Ford Market and Ozark County blend into a colorful collage.

In 1906, Newt Ford bought land from the Harlin family to build a grocery store on the Gainesville square. The property stayed in the Ford family for 106 years until the Schlotzhauers purchased it in 2012. The Fords operated their grocery business there until 1933, when the Bushong family rented the store from the Fords. They erected a large metal sign over the entrance, renaming the store the Bushong Market.

"We have the old ledgers," says Charlene, "and we can see where the handwriting changed on the day in 1933 when the Bushongs took over."

The Ford family resumed operation of the store in 1950 when Glenda and Les Ford unveiled what Charlene called Gainesville's first supermarket.

"It was the first grocery store in the area to have grocery carts. You didn't give your shopping list to the grocer for him to fill," she said. "You walked along the aisles to select your own groceries.

"My mom worked for Glenda and Les at the Ford Market when she was a young woman," says Charlene. "She loved working for the Fords and has fond memories from the old days when it was one of the busiest places on the square."

Deep Roots in Ozark County

Like so many Ozark residents, Charlene can trace her family genealogy to the earliest settlement of this area. Four generations of her parents' families are buried in the Oakland and Sanders cemeteries. Her great-great-grandfather John Mahan fought for the Union and was captured twice by Confederate forces. He escaped by digging his way out of prison with a spoon.

Andrew Jackson Coffey, Charlene's great-great-grandfather, enlisted in the Missouri Militia during the Civil War. After the war, he served as sheriff of Ozark County and was elected to the Missouri House of Representatives. In 1889, A. J. Coffey built a home four miles south of Gainesville on Cheese Plant Road.

"We know the date because it's carved into the stone chimney that still stands," says Charlene. "My mom has wonderful memories of that place with the spring house across the road and the lake fed by the spring behind the house."

Charlene's mother and father were both graduates of Gainesville High School, and Charlene was born in Dr. M. J. Hoerman's clinic there.

Like so many others, the Mahan family left the Ozarks during the drought of 1953. George Mahan took a job working for Westinghouse in Kansas City. Some years later, they moved to Arkansas, where George worked as a mechanic at the Chevrolet garage in Mountain Home. Charlene fondly recalls their home that was located between Mountain Home and Gassville. "Jonquils and iris, transplanted from the old family cemetery at Oakland that is now under Bull Shoals Lake, still bloom there in the spring," she says with a smile.

"My family on all sides were hard-working people trying to make their way," says Charlene. "They were strong and instilled important values in their children."

Now confirmed and contented residents of Ozark County, Charlene and Ron hope to continue her family's heritage. "They were good neighbors and worked hard for their community," she says. "I was blessed to come from such wonderful strong people."
Did you know?
That the Old Ford Market building is over 100-years old?
That the Old Ford Market was the first grocery store in the area to have shopping carts?
---