Century Bank of the Ozarks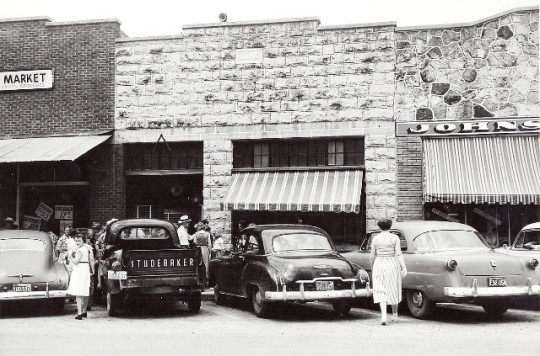 Century Bank of the Ozarks in 1954.
Parts of this story were adapted from a July 22, 2009, Ozark County Times story about Century Bank of the Ozarks' 115th anniversary.
Century Bank of the Ozarks Celebrates 120th Anniversary
Century Bank of the Ozarks is celebrating its 120th anniversary. The bank hosted a customer appreciation party in its parking lot earlier this month, and now it's back to business, continuing the work it began on July 24, 1894.

The county's first bank opened as the Bank of Gainesville on that date after being organized by Jim Harlin along from his brother Tan Harlin as well as John R. Reed and some other men. The Harlins had come to Ozark County from Monroe County, Kentucky, in 1869, settling near Gainesville. The pioneers included Union veteran John William Harlin and his wife, the former Mary Abigail Conkin. By the time John William died of blood poisoning in 1879 at the age of 38, the Harlins had eight sons, ranging in age from 2 to 17: Jim, Tan, Jarrett, Joe, Dewey, Charlie, Johnny and Frank. A daughter, Maude Ellen, had died at birth.

Four years later, the Harlin family sent Tan to West Plains Bank in 1883 to learn the banking business. Tan and his brother Jim were the great-great-uncles of current bank president and CEO Chris Harlin. Chris' great-grandfather, Johnny Harlin, joined his brothers at Bank of Gainesville two years after it opened.

Johnny was followed as bank president by his son, the late H. T. Harlin, and then by his grandson, John L. Harlin, Chris' father. While Chris serves today as president and CEO, John Harlin continues as chairman of the board.

In its July 26, 1894, edition, the Ozark County Weekly News reported the bank's opening in a four-line item in its "Town and Country" column of "Local News Items, caught on the Wing and Put Together for the Benefit of 'News' Readers." It said simply, "The Bank of Gainesville opened for business Tues. morning at 9 o'clock, and during the day received, as deposits, something over $6,000."

An earlier edition had commended Joe Farmer and his impressive draft horses for successfully hauling the bank's 4,500-pound safe to Gainesville from West Plains.

In 1896, the same year Johnny Harlin joined the bank, he married Clara Layton, who had been the bank's very first depositor. "She was 17 and was standing on the doorstep, waiting for the bank to open that first morning," John Harlin said. "She may have been setting her cap on Johnny." It isn't known how much young Clara deposited, but the bank's first day receipts totaled $6,714.94.

The bank was first located in what was called the Harrison storehouse where the Amyx building stands today just off the northwest corner of Gainesville's square, according to old newspaper reports. The first day's financial statement reported $2,137.46 in "loans and discounts undoubtedly good on personal or collateral security" and boasted $11,714.94 in total assets, including the $236.10 value of its premises. Today, it lists $170 million in assets.

In 1929, the same year Wall Street crashed, threatening the American banking system, the Bank of Gainesville moved into a new building on the west side of the square. "They were optimistic," John Harlin said. In an old newspaper describing the bank's move, it was noted that the bank had acquired one of the last available lots on the square.

Before building on the square, the bank moved a previous building on that site (on the west side of the square) out of the way. "My dad told me that when they built the building in 1929, they put the old frame building on skids and moved it (a short distance) north," John said. "Sometime in the 1930s, they sold the building to the Johnson brothers, Frank and Marvin," who opened a store in it.

One of John's earliest memories is the Jan. 8, 1940, fire that destroyed Johnson's store as well as the hotel next to it. "I was just a little kid, and I watched it in my mother's arms," he said. Due to its "reinforced, poured-concrete" fire wall, the bank escape damage.

'We have faith in our customers'

Johnny Harlin became the bank's president in the 1920s, a few years before the crash that eventually led President Franklin Roosevelt to order all American banks to close for a "holiday" in order to reorganize during the Great Depression. Johnny Harlin refused to close the Bank of Gainesville until directly ordered to do so in a telegram from Washington.

"But before he closed the bank, he went to all the merchants to make sure they had enough cash to make it through," John said.

Later, Depression-era bank examiners ordered the bank to charge off what they considered worthless notes. Again Johnny refused, telling the examiners, "We propose to work this out in our own way, and intend to collect the loans you consider worthless, for we have faith in our customers and in the Ozarks."

Within three years, 98 percent of the "bad" loans had been fully repaid.

Similarly, when the government offered bailouts five years ago to many troubled banks during the great recession, Chris Harlin replied in a way that surely would make his great-granddad Johnny Harlin proud. Thanks but no thanks, he said. Century Bank is in good shape, and it still has faith in its customers and in Ozark County.

Clara and Johnny's son Hugh Tan became bank president following Johnny's death. Like his siblings, Hugh had grown up in the bank and began his career by providing janitorial services while still a teenager, including cleaning the cuspidors that stood in front of the teller windows.

He married Billye Key in 1934, and their two children, John and Sherrill (now Sherrill Hardcastle, living in Lebanon), grew up working in the bank. John especially remembers their duties on the last day of the month, when they helped seal the envelopes for bank statements being mailed out. "On New Year's Eve, we would be at the bank until nine or ten o'clock at night, getting the statements out," John said.

After graduating from what is now Missouri State University, John served in the Air Force and spent several years working in broadcasting before coming back to banking. He worked three years at First National Bank of West Plains, and then he and his wife, Linda, a Houston, Missouri, native, moved back to Gainesville in 1966. Chris was born in 1969.

"It's interesting," said John. "I don't remember Dad or Granddad ever telling me anything about how to do this job. But they were the perfect examples of how it should be done."

One thing they did was show kind consideration toward their customers. "Back then, there were a lot of people in Ozark County who couldn't read or write," said John. "But if they came in to do some kind of paperwork, no one ever asked them, 'Can you write your name?' Instead, they would be asked, 'Do you sign?' And of course everyone could sign in one way or another."

In 1957, the bank had remodeled its building on the west side of the square. "The tellers went from working behind cages to what I call a Danish modern design," John said with a laugh.

In 1969, the bank's 75th anniversary year, it moved to a single-story 6,600-square foot building on the northeast corner of the square, its current location. The 75th anniversary brochure boasts resources of $8.3 million.

One day in December 1971, Hugh called everyone into his office and said, "As of now, John is president of the bank." John remembers, "there was a little gasp – it was totally unexpected. Of course the board had to approve it, but that's how I became bank president and Dad became chairman of the board."

A 2,000-square-foot expansion was completed in 1978, the same year the bank opened a branch office in Theodosia, something that previously had been prohibited by Missouri banking regulations. Another change in regulations, pushed through the Missouri legislature in 1983, allowed banks operating within third- and fourth-class counties to have two branches if the county's population was between 7,000 and 10,000, John said. "Missouri had 17 counties that fit that description – but only one that cared," John said. "The amendment was specifically designed to allow the Bank of Gainesville to open a branch in Bakersfield, giving it "the most far-flung branching empire in the state," John joked.

In 1992, after graduating from what is now Missouri State University and working three years at Boatman's Bank in Springfield and Exchange National Bank in Jefferson City, Chris and his wife, the former Missy Workman, moved to Gainesville, where he joined the bank as assistant vice president.

In 1994, another major remodeling brought the bank's structure to 18,000 square feet and added a second story, three drive-through lanes and an ATM machine. That year's 100th anniversary advertisement offered guests "free rides" in the town's first elevator. A year later, the Bank of Gainesville acquired the Douglas County Bank in Ava, and in 1996, the bank's name changed to Century Bank of the Ozarks.

Chris Harlin now serves as CEO of the Century Bank of the Ozarks group and as chairman of the board of Legacy Bank and Trust, which is affiliated with Century Bank and has some common ownership. In 2003, Legacy acquired the Bank of Plato, expanded into Mountain Grove and also acquired Citizens Bank of Sparta. In 2008 Legacy opened a branch office in Rogersville. Primary Legacy stockholders include Chris and John Harlin, Pat Funk and Norman Hannaford.

Although John and Linda Harlin now are officially retired, both continue to serve on the bank board and maintain offices in the bank, where Linda helps with designing branch office décor and landscaping, and John devotes most of his time to community service.

Another expansion in 2006 added a new, freestanding two-story training and financial services building, including another elevator and a skywalk connecting the addition to the bank's main building.

Chris and Missy Harlin have two daughters, Abbi, a junior at the University of Arkansas in Fayetteville, and Faith, a freshman at Gainesville High School. Abbi worked in the bank as a teller during her high school years, and Chris said Faith will likely do the same in a couple of years – a fifth generation of Harlins stepping into their family's legacy of service to customers of Century Bank of the Ozarks.
Did you know?
Five generations of the Harlin family have worked at the bank that is now the Century Bank of the Ozarks since its founding in July of 1894?
There was a fire that destroyed the bank and the hotel next to it on January 8th, of 1940?